Beach
Hotelul dispune de salon de mic dejun, sala de fitness, sauna, hamam, piscina exterioara cu sectiune pentru copii, bar la piscina, gradina, internet.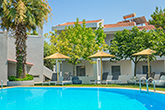 Located on the most picturesque spot at Skala Prinos, Thassos Island, Inspira Boutique Hotel, is just 20 meters away from the beach, 5 minutes walking distance from the centre of Skala Prinos & 15 km away from Thassos town. It is an adults only hotel.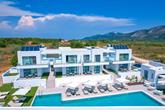 Are you a couple, honeymooners, or newlyweds in search of a luxury suite? A romantic getaway is frequently centered on an intimate meal. So you might want to make a reservation at the most appealing option in Thasos Island? To sweep you, couples, off your feet, you must visit Narciso because it, without a doubt, offers a romantic setting, bids genuinely attentive service, and go above and beyond with personalized experiences and thoughtful décor. When your search for the best luxury suite on Thasos Island comes to an end, Narciso is the place to be. It is in Dasilio SkalaPrinos, and is only 300 meters from the beach, ensuring VIP privacy and personalized Greek hospitality. Narciso allows couples to have a candlelit dinner either beside their pool, at a dressed-up table in a tucked-away area, or have a private dining experience on their bedroom balcony. Narciso could also decorate their table with flowers, candles, or lanterns to add to the romantic atmosphere, or they could just keep it simple — too much decoration can detract from the romantic atmosphere.